DISTANCE LEARNING AT WICHITA COLLEGIATE SCHOOL
Faculty and Staff have developed plans for what distance learning will look like should we need to return to distance learning as required by the State of Kansas during the 2020-2021 school year. Those plans are based on several important principles to provide the best educational experience for our students and families.
The same Learning Management System will be used by all teachers within a particular division.

All faculty plan to communicate to our homes using the same method across the division.

Every student will have a minimum of one live interaction with their teacher per school day.

Faculty will have the following weeks' schedule posted and communicated to each class by Friday at 5 p.m.

The grading system will be clearly articulated and will be consistent.

Each Division will send a weekly communication that includes upcoming events, a health update, and invitations for feedback.

All attendance in live distance learning classes will follow the attendance policies of the school as posted in our parent/student handbook.

Technology help requests will be dealt with by the IT Department as quickly as possible. Students should direct their requests to helpdesk@wcsks.com.

Faculty will meet weekly to discuss updates and changes. All relevant information will be communicated to each division as relevant.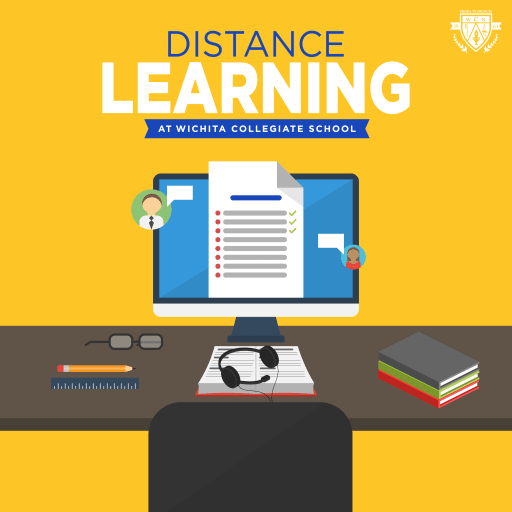 DISTANCE LEARNING PHILOSOPHY
Wichita Collegiate School's approach to distance learning is centered on the belief that we should think differently about our priorities when responding to challenging circumstances, and we should embrace new opportunities for students to learn in authentic, meaningful ways. We use the term distance learning deliberately and in lieu of technology-specific terms such as "e-learning" or "online courses" to reflect our conviction that quality learning can occur at a distance without solely relying on computers. Our approach to distance learning seeks, to the greatest extent possible, to ensure that students maintain connections with each other and with their teachers as well as engage in authentic learning experiences across all disciplines. Although distance learning will never replace the direct contact students have with their teachers and peers as members of a caring, inclusive campus community, it will allow students to continue to progress in their studies and to nurture relationships with friends and trusted adults.
We will continue to update this page with important communications, videos, resources, pictures, and more. We want to hear from you—please email any content submissions, photos, videos, comments, and suggestions to spartanscoop@wcsks.com